To The Abode Of Nilgiri Tahrs, Where The Neelakurinji Blooms
It was one of my wish to set foot on the Rajamala and watch Nilgiri Tahrs. Although I had visited Munnar before with my friends, the time constraints have made us omit the Eravikulam National Park visit. At that moment had decided if I get a chance to visit Kerala again, then I will definitely make it to Rajamala. After my marriage when the decision to choose honeymoon spot was before me, I shared my wish to visit Rajamala in Munnar with my husband. Here in Surat, the weather is not so cold and is polluted. Thus escaping into mist filled valleys was my all time favorite activity. From  Surat, the presence of some exotic tour packages to Kerala was a real boon to us. But, since I had once gone for the Munnar trip, we didn't require any guide or representative. Here, Surat is a place rich in age-old history and Kerala is the most sought tourist destination for people here. The only discomfort is the 7 hours continuous journey in flight from Surat To Kochi. We have started our trip on 26th  November 2017 early morning and reached Munnar hotel by 7:45 pm. Our first destination was Rajamala next day and the hotel authority gave us enough directions to reach there.
On next morning, after having our complimentary breakfast, we have headed towards Eravikulam National Park. We have got mesmerized by the on the way scenery and far away, the mist covered mountains were visible. On approaching certain places, the sound of the rippling streams could be heard. Several twist and turns on the way made our travel riveting. Eravikulam National Park was almost 15 kilometers away from Munnar town. We have reached the entrance to the park by 8:45 am and the parking was free. But, the watch of long queues have first disappointed us and I could hear many other tourists from North India, yelling out " Char khanda legega", meaning it will take 4 hours. My husband joined the queue and I was waiting in the waiting area. Some vendors were selling umbrellas, pineapples, and mangoes. I have bought a cup of pineapple pieces mixed with salt and chilly powder. It was stated that per day only 2550 tickets will be sold having 3 hours of validity from the time of buying. Also, the tickets will be available from 7:30 am to 4:00 pm. After buying the tickets, one must stand in another queue waiting for the bus. Our private vehicle is not allowed for Rajamala trekking and a minibus safari is arranged at the park by Government. Once we got the tickets, we proceeded to stand in the long queue. There was a college tour because of which we had to stand back waiting for the students to reach the top. Standing in the queue itself, the Rajamala, the mountain was visible. Some guards there was pointing to a mountain parts and said it is the part of Anamudi peak, the highest peak in South India. We could feel the drizzle when we were waiting for the bus to pick us. It was soothing for us as escaping from the polluted city of Surat, we have actually taken a rebirth here at Munnar. From our city, most of the people used to come to Kerala and enjoy its beauty.
After a long wait, finally the length of the queue was decreasing and our turn was approaching. It was about 12:10 pm by then. To shed off the boredom, we both have watched a movie on our smartphone. Mobile phones will not have the range to connect to the internet except BSNL. When the bus came, we have occupied our seats and the journey started. Too many twists and turns were encountered and on the way, tea plantations were more in numbers and far away the mountain was visible. There is a forest check post on the way and we have continued our journey. It took almost 15 minutes to reach the top. One must really appreciate the effort of the bus driver to drive in that crossroads. Finally, we have reached the entrance point where some officials checked our bags and tickets as it is a plastic free zone. Any type of food materials, plastic bottles cannot be carried. We have further moved for a walk, the climate was both cloudy, and misty. Intermittently, sunlight peeked. We must make a small trek to upwards. One we look back, the view of mountain ranges was exotic and at that point, we will get astonished about nature. This spot was actually the best place for a honeymoon.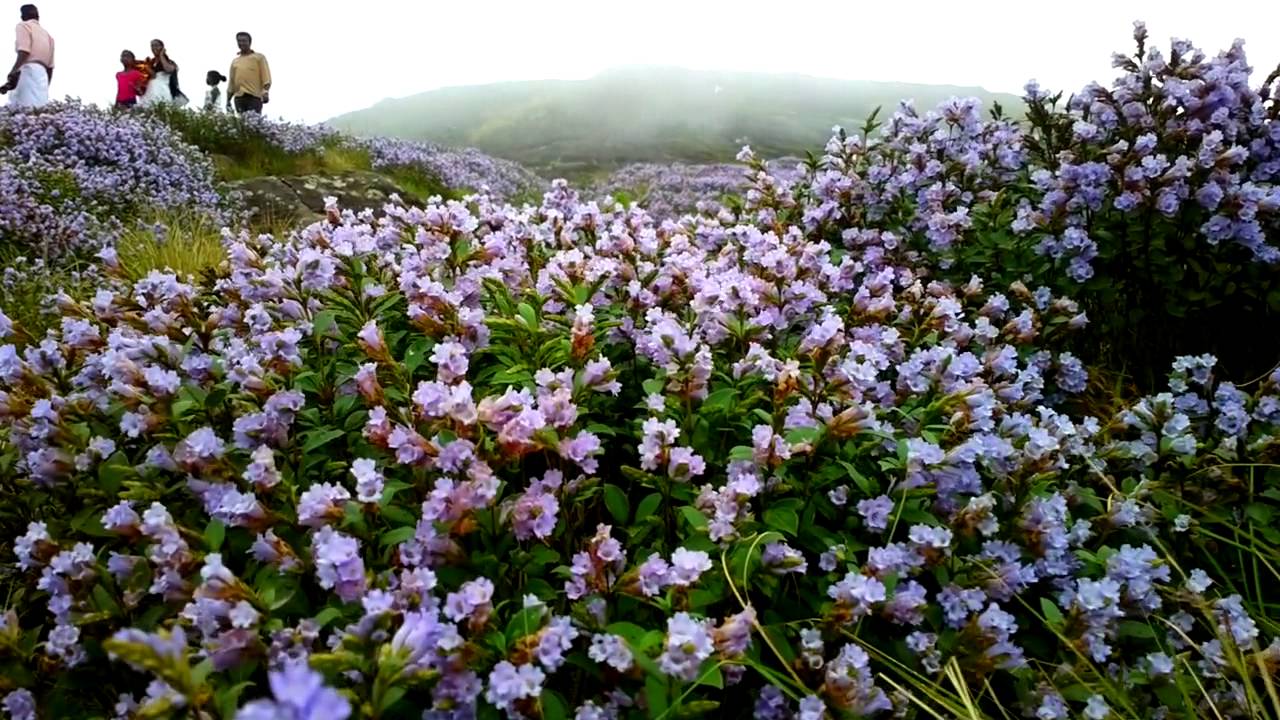 There are so many signboards stating not to touch the Nilgiri Tahrs or pluck Neelakurinji. Unfortunately, we must wait for few more months to see the bloomed Neelakurinji. My eyes were searching for the wild mountain goat and on further walking, we saw some crowds at one point and we have run to that spot. Luckily, we saw two of the goats, grazing in the meadows. We suddenly took out our mobile and backgrounding the goats, we have taken so many pictures. Continuing further, a small shrine was there, which was closed, resting places made in the shape of a hut, built with eco-friendly products was kept at each spots allowing the visitors to take rest. Apart from Neelakurinji flowers, many herbs, shrubs, medicinal plants were present at the meadows and at each plant, boards stating its scientific name and class was given. At the top, nearest to the visitor limit of the park, the whole top view was visible. Tourists were taking several pictures there with various poses. Most of them were honeymoon couples, like us. The reason why they head to Rajamala is that the soothing climate at the top and the romantic walk one can make while trekking. Even we too had a romantic walk till the top, taking our selfies, cracking jokes, teasing each other and all. Thus, Eravikulam National Park visit in Munnar is a part of best honeymoon packages in Kerala and its beauty is unexplainable. To enjoy its magnificence, we have sat on top of a rock there and watched the park in full view. It would have been a real loss if haven't arranged a honeymoon trip to Rajamala.
At one point, a pipe was laid that has the pure mountain water and most of the guests washed their face in that chilly water and drank it. Even we have done that. It was time for us to walk the lanes down and say bye to the Nilgiri Tahrs. Walking down was a bit easy as it was a slope. Up at the park, there is space for relaxation, where tea, coffee and snacks were served. The toilets were of bad quality and were not hygiene. A small hall was there to share the story of the park, due to limited time, we have omitted the visit. Another queue was there to wait for the buses to go down. While we were waiting, we have chatted with other tourists from Suratwith family. Without much delay, a bus came and we have boarded it. I was actually feeling disappointed to return as we felt like living there. I think, there was tribal inhabitance at the top as a jeep carrying many people with their supplies was passing by the bus. When we reached back to the entrance point, it was about 2:30 pm, time for the lunch. A small restaurant and an eco shop were running near the ticket counter, from where we had our lunch. Still, the cool breeze was swaying the trees. I was so glad that my wish to visit Rajamala and Nilgiri Tahrs was fulfilled.