Cross Border Tourism: North East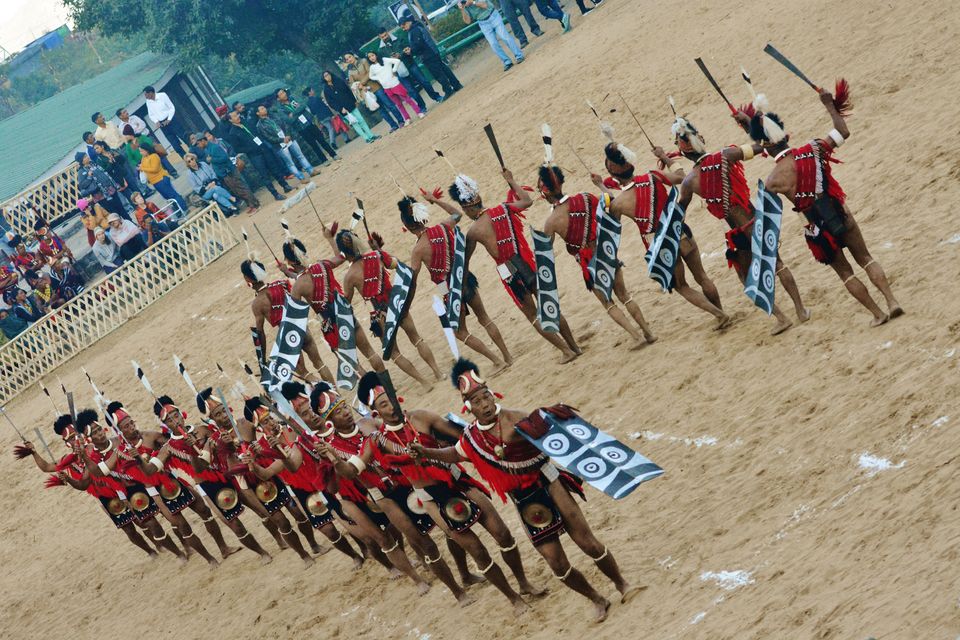 As I started walking, a guy who had been riding from Chennai met me. He paced on further while I began to take some pictures. Moving further, the steps started. At this point, I met two Germans, and I let them pass too, I was pretty slow trekking. I was stupid enough to lose my energy on walking down on the road earlier, and not having found any shops open, I could not build up some food stock for the way. I just had a packet of biscuits, a bottle of water and wafers to my rescue. I strolled along the frozen trails- the side that hadn't seen the sun was frosted, while the other side was glowing warm with the sun. The trail was overgrown with shrubs, and at places, the steps were slippery with the melting ice. And the steps just wouldn't end. I felt tired much easily. Not having breakfast had slowed me down. I had been climbing for more than 2 hrs now with multiple breaks to beat exhaution. Finally, I found two guys climbing down, who inquired me about the places they could visit around, and in Manipur. They told me that it would take an hour and a half until I could see the Dzukou Valley, and few hours more if I decide to romp in the valley. At 9.30, it seemed like a feasible idea to be in the valley by 11 or so, relax a bit, and finish climbing down before 4, as it would get dark after that. The trail had no stoppages or resting points or dhabas anywhere, so to be back early was crucial for me. Even though there is a dormitory in the Dzukou Valley, but I couldn't have had spent the night there because I had to reach Dimapur the next day to catch my flight.
15 minutes after I met the guys, the steps just ended at a point where there was a dried bed of a mountain cascade, almost 10 metres wide. I thought that I might have followed a wrong path and stepped down, but there were no other trails anywhere. I was in a fix, with nobody to guide me. I assumed that I would catch up with the trail, after climbing up a few steps on that huge waterfall. And that was when I made the blunder. I climbed up the big boulders of the dried waterfall, and got to the edges to find the trail. Unfortunately, I ended up jumping into the dense canopy of shrubs with slippery mud. No routes were found. I decided to come back. Something had come on me, I didn't go down looking for the trail on the other side, but just started climbing up on that extremely difficult steep bed of boulders, watching out loose rocks and debris from landslide. Lack of glucose had definitely made me go nuts. With food n water blown, I was left with my backpack to climb with, which was the worst scenario, as it made it far more difficult. Few 100 metres ahead, I hoped to find the trail, but no. I made up my mind now to just climb until the end of the waterfall bed, because may be I would be able to see where to go. With much toil, I managed to reach till the top, avoiding any injuries. If I had slipped on a gravel at any point, I would have been open to fatal injury, rolling down on a giant slope laden with rocks. But I made it. To my dismay, neither did I reach at a hill top nor did the dense thickness of the forest lead me to anywhere. There was the silence of the deep forest with the noise of my pulsating heart. Interestingly, I was getting network on my phone. Having tried to find out way in the unforgiving jungle, and now bitten by a spiny plant, I decided not to be stupid anymore. I texted my friends telling them the funny situation I was in. Comedy came as a respite to this tragedy where I was more sorrowful of having missed by chance to see the Dzukou Valley than of being in this misadventure. I searched Dzukou on map, I could see where I was, and where the Dzukou point was, but of course no path. Google maps cannot direct you in a jungle. I had to climb down, and climbing down the waterfall bed was extremely risky. But the forests wouldn't let me pass through, it was difficult to set a foot where grounds weren't even visible with the dense shrubs. I decided take the risk of climbing down the river bed. The first few steps were dangerous, rocks stumbled down where I landed, I slipped and rolled on the gravel for a few metres, ad then I learnt the technique. I climbed down like a baby, sitting on the rocks, setting my feet, and moving my upper body heavy with my own weight and my backpack's. Took some pictures; Lay on giant boulders watching the silent nature; made fun of myself through Insta stories; and carried on. Eventually at 1 pm, I was where I had lost my steps. During this entire ordeal, I had built enough energy to carry out a good long trek without food. Of course, survival! Wish I had the same energy when I had begun the trek, and I could have been with the fellow travelers. But anyway, the misadventure had taught me many lessons. And Dzukou was meant for another time. I could have tried to find the trail to Dzukou, but I didn't have time in hand anymore. I couldn't have been back before night, and climbing down alone could have been brutal to myself. I followed the steps back to from where I had started. My legs did shiver on my way back in dearth of glucose. I found a stream mid way, and filled my bottle with fresh natural water. As I was close to the end, the Chennai guy was speeding down. He reached Dzukou point at 11, and had began climbing down in half an hour. I felt the sense of loss. Maybe, Dzukou would want me to spend a good two days there with some nice folks of my own.
Having climbed down by 3 pm, I was dragging myself till the road to get a lift. I just sat on the road, until a shared vehicle going to Kohima, found me.
Source: Tripoto.com