10 Most Visited Places In India For The Year 2017 & Their Offbeat Matches for 2018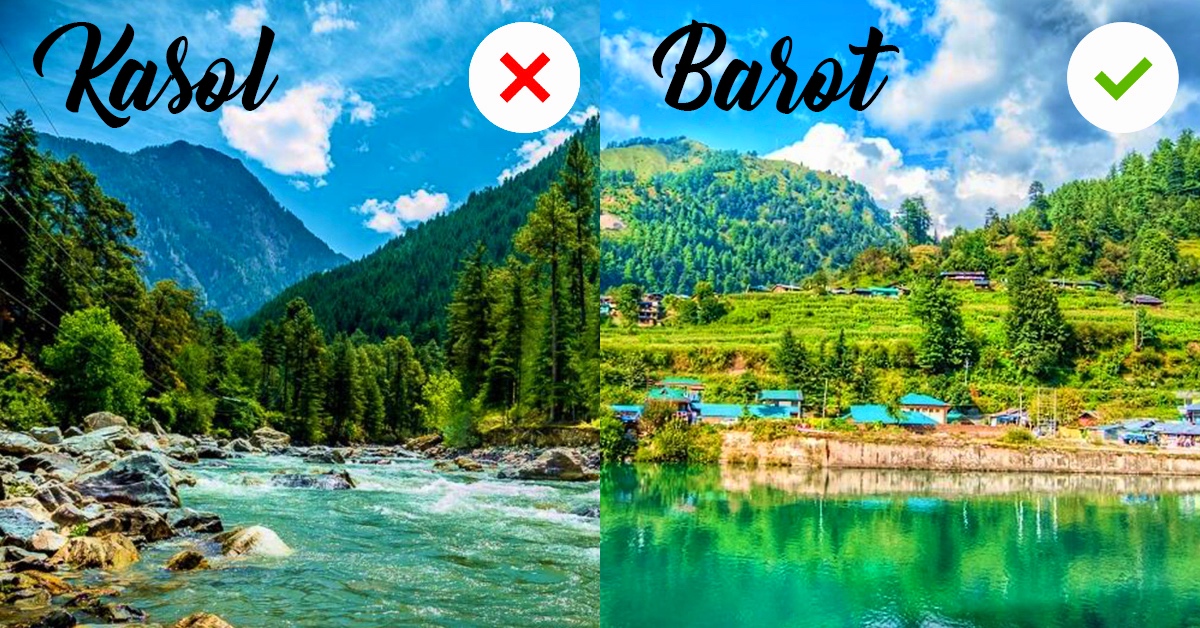 Situated on the banks of the Beas river, at an altitude of 2,047 meters, is Naggar, an ancient town in the Kullu district of Himachal Pradesh. It served as the capital of the erstwhile Kullu rajas for about 1,400 years. This scenic village is surrounded by magnificent mountains, waterfalls and lush green forests. The impressive cultural heritage and rich architectural style is one of a kind in the valley.
Top things to see and do: Visit the Naggar Castle; spend time at Roerich Art Gallery which is home to Russian Folk Art made by Nicholas Roerich; take time to visit Dagpo Shedrupling Monastery and enjoy breathtaking views of the area
Best time to visit: October and November, when the temperature is not too cold.
Where to stay: Treetops Cottage (₹2,400), Luxury Cottage (₹2,345). For more options, check here.
#2 Jaipur is spectacular. But I urge you to explore the city of Bundi in 2018
Bundi is a city situated in the Hadoti region of Rajasthan. It is known for its ornate forts, palaces, and stepwell reservoirs, known as baoris. This enchanting town is surrounded by blue houses, lakes, hills, bazaars and temples. Get lost in the charms of the bygone era when you visit this magical place.
Top things to see and do: Visit Taragarh Fort, Moti Mahal, Garh Palace, Chaurasi Khambon ki Chattri and several other interesting palaces and forts when you visit Bundi.
Best time to visit: October to April are the ideal months, as the weather is quite pleasant.
Where to stay: Bundi Inn (₹999), Haveli Katkoun (₹999). For more options, check here.
#3 Rishikesh will always be special. But fall in love with Munsyari in the new year
Munsiyari, the name translates to 'place with snow', is a little hamlet situated in the Pithoragarh district in the hill state of Uttarakhand. It lies at an elevation of about 7,200ft on the banks of Goriganga river. This place is growing popular with mountaineers, glacier enthusiasts, high altitude trekkers and nature lovers alike.
Top things to see and do: Visit Birthi Falls; see the beautiful Maheshwari Kund; enjoy vistas of Panchachuli Peak; look for musk deers at Thamari Kund.
Best time to visit: March to June and mid-September to October are perfect for visiting Munsyari as the temperature is ideal for trekking.
Where to stay: Milam Inn (₹1,159), Hotel Bala Paradise (₹ 1,850). For more options, check here.
#4 Munnar is magical. But let the rolling meadows of Vagamon enchant you next year
Vagamon is a sleepy town located 65km away from Kottayam in Kerala. Still relatively untouched, the hill town of Vagamon is surrounded by valleys, green meadows, pine forests, tea estates, waterfalls and lush greenery. Vagamon is also home to the rich diversity of flowers and orchids. You can also go for trekking, paragliding, mountaineering and rock climbing here.
Top things to see and do: Explore Ulipooni Wildlife Sanctuary on a boat ride; relax in the Vagamon meadows; visit the Christian pilgrimage site of Kurisumala; take a walk in the woods of Pine Hill.
Best time to visit: Vagamon enjoys pleasant weather throughout the year.
Where to stay: The Kissing Mountains (₹2,475), Chillax Vagamon (₹2,241). For more options, check here.
#5 Kasol is a backpacker's first love. But you will also be spellbound by the beauty of Barot Valley
Barot is a small village situated 40km from Joginder Nagar in the Mandi district. It is emerging as an angling destination due to several fish farms in the region. The Uhl River flows through Barot and Nargu Wildlife Sanctuary lies across it. The sanctuary is home to the monal, black bear and ghoral. Go hiking in the lush green forest or go for trout fishing, there is no dearth of outdoor activities here.
Top things to see and do: Enjoy camping in the wilderness; try fishing in the Uhl River; trek into the nearby forest; explore the Nargu Wildlife Sanctuary and try to spot the Himalayan black bear.
Best time to visit: November to February is a good time to visit Barot as it is the trout fishing season.
Where to stay: Trek Tribe Village (₹1,613), Indian Safari (₹ 1,484). For more options, check here.
#6 Hampi is poetry in ruins. But the epic Hoysala workmanship in Belur is craving for your attention too
Belur is a historic town located in the Hassan district of Karnataka. It is renowned for Chennakeshava Temple, which is an incredible feat of Hoysala workmanship. There is also another 12th century Kesava Temple here. These temples along with Jain temples in Halebidu have been proposed as UNESCO world heritage sites. History buffs are in for a treat when visiting Belur.
Top things to see and do: Visit Hoysaleswara Temple, which is one of the largest monuments in Halebidu; see the Jain temples of Basadi Halli; checkout the Archaeological Museum which houses more than 1,500 artefacts of historical significance; enjoy some water sports at Yagachi Dam.
Best time to visit: October to April is great to enjoy the outdoors in Belur.
Where to stay: Tri Woods Plantation Farm Stay (₹3,600), Hotel Mayura (₹1,170). For more options, check here.
#7 Coorg is know for its coffee. But did you know that coffee in India was first cultivated in Chikmagalur?
On the foothills of the Mullayanagiri range, which is the highest peak in Karnataka, lies the sleepy hill station of Chikmagalur. It boasts of several coffee estates, some of which you can even stay on. Enjoy the green meadows, gushing waterfalls and the enchanting valley when you visit Chikmagalur.
Top things to see and do: Explore Bhadra Wildlife Sanctuary to spot tigers, elephants, sloth bears, black leopards and spotted deer; checkout Hebbe Falls; enjoy the views of Mullayanagiri; visit the Hindu shrine of Kodandarama Temple.
Best time to visit: September to March, when the temperature is ideal for sightseeing.
Where to stay: Bougain villea homestay (₹2,999), Mandimane Rockside Retreat (₹5,998). For more options, check here.
#8 Udaipur looks serene. But the city of a hundred islands, Banswara can leave you mesmerised too
Located in the southernmost part of Rajasthan, Banswara gets its name from Bamboo or Bans that once grew in abundance here. It is also known as the city of a hundred islands, as there are numerous islands on the Mahi River here. Enjoy the rich landscape and learn about tribal culture when you visit Banswara.
Top things to see and do: Visit Garhi Palace, Paraheda Shiv Mandir, Banswara Palace, Shri Raj Mandir and several other magnificent temple and palaces of Banswara.
Best time to visit: October to February is ideal when the climate is pleasantly cool.
Where to stay: Hotel Nakshatra (₹3,250), Hotel Relax Inn (₹750). For more options, check here.
#9 Gangtok is great. But go a little further and get enthralled by the beauty of Lachung
Close to the Tibetan border, lies the quaint mountain village called Lachung in the Northeast Indian State of Sikkim. This village is about 100km from the capital city of Gangtok. It is home to the 19th-century Buddhist Lachung Monastery. Enjoy tranquil waterfalls, pine forests and hot springs when you visit this paradise.
Top things to see and do: Visit the Lachung Monastery; explore Shingba Rhododendron Sanctuary that has 40 species of rhododendron trees; enjoy Bhim Nala Falls; go hiking through pine forests.
Best time to visit: October to June, when the temperature ranges from 10°c to 16°c.
Where to stay: Delight Hotels Royal (₹1,698), Etho Metho Hotel (₹5,310). For more options, check here.
#10 And finally, our beloved Goa and there is absolutely no alternative for it
We all know that there is no place like Goa. The kind of laid-back culture one gets to enjoy here against the backdrop of exquisite palm fringed beaches is comparable to none. You see the place in a different light with every new visit. Goa will never be mainstream and trust me you will discover something new on every visit.
Top things to see and do: Visit beautiful churches of South Goa; enjoy water sports on Calangute Beach; explore the serene beaches of north Goa; checkout Fort Aguada on Sinquerim Beach.
Best time to visit: From November to February, when the weather is comfortable, cool and pleasant.
Where to stay: Hospedaria Abrigo De Botelho (₹2,478), OYO 854 Hotel Tina's Inn (₹2,951). For more options, check here.
Have you been to a new place this year? Share your story with the travellers of Tripoto community.
Source: Tripoto.com